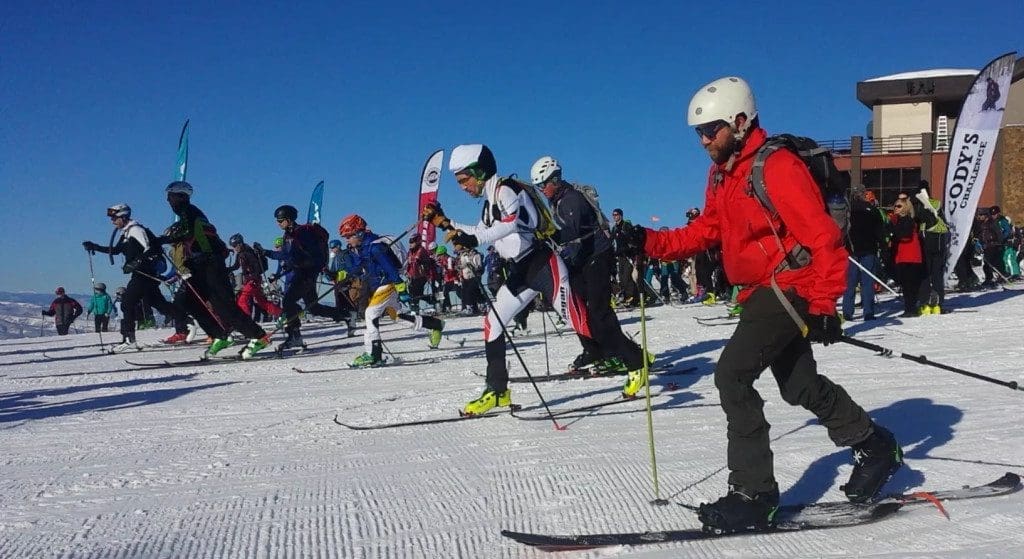 Today was good. Really good.
As predicted today's eighth annual Cody's Challenge was arguably the best ever! If you were one of the 202 fortunate enough to race this year, you experienced an incredible course with great weather and near perfect snow conditions. Kudos to Steamboat Patrollers, Kyle Lawton and Brian McGovern, for setting and maintaining this year's course and congrats for bringing the Cody's Cup back to the Boat.
Racer  turnout surpassed expectations. Manic Training largely represented the locals with over 60 athletes, many returning from years past and even more taking part for the first time. To support this growing event, it takes a a growing community. We would like to thank the Steamboat community and everyone who volunteered. A big shout out goes to Steamboat Ski Patrol doing their good work and to the participants, sponsors and donors who make this event a reality.
Lastly, the below are preliminary results we acknowledge the race timing issues we encountered and are already making strides to ensure that we improve in this arena!
Final results forthcoming!
If you have any questions of comments about anything you experienced in the race, we would love to hear them from you! How was it? How can we improve?
"Let us fortunate ones live the good life." – Cody. St. John
2016 Results
Men's Long Course Race Gear
| | | | | | |
| --- | --- | --- | --- | --- | --- |
| 311 | Max | Taam | 1:31.30 | Mens Course | Race Gear |
| 245 | Rory | Kelly | 1:36.57 | Mens Course | Race Gear |
| 317 | Stephen | White | 1:39.04 | Mens Course | Race Gear |
Men's Long Course Telemark & Recreational
| | | | | | |
| --- | --- | --- | --- | --- | --- |
| 365 | Kevin | McGarity | 1:55.23 | Mens Course | Telemark & Recreational Gear |
| 307 | Steven | Stefko | 1:58.19 | Mens Course | Telemark & Recreational Gear |
| 216 | Aaron | Dover | 2:09.18 | Mens Course | Telemark & Recreational Gear |
Men's Long Course Splitboard
| | | | | | |
| --- | --- | --- | --- | --- | --- |
| 276 | Mike | Morris | 2:29.27 | Mens Course | Splitboard / Snowboard |
| 219 | Nolan | Faldet | 2:35.45 | Mens Course | Splitboard / Snowboard |
| 294 | Chris | Rhodes | 2:39.00 | Mens Course | Splitboard / Snowboard |
Women's Long Course Race Gear
| | | | | | |
| --- | --- | --- | --- | --- | --- |
| 325 | Jessie | Young | 1:39.08 | Womens Course | Race Gear |
| 349 | Sari | Anderson | 1:49.13 | Womens Course | Race Gear |
| 361 | Kate | Zander | 1:52.41 | Womens Course | Race Gear |
Women's Long Course Telemark & Recreational
| | | | | | |
| --- | --- | --- | --- | --- | --- |
| 345 | Karen | Tremaine | 2:54.33 | Womens Course | Telemark & Recreational Gear |
| 183 | Bec | Bale | 2:56.02 | Womens Course | Telemark & Recreational Gear |
| 182 | Liz | Baldwin | 2:59.48 | Womens Course | Telemark & Recreational Gear |
Women's Long Course Splitboard
| | | | | | |
| --- | --- | --- | --- | --- | --- |
| 226 | Shannon | Forbes | 2:42.18 | Womens Course | Splitboard / Snowboard |
| 261 | Jessica | Lobeck | 3:55.35 | Womens Course | Splitboard / Snowboard |
Men's Short Course Race Gear
| | | | | | |
| --- | --- | --- | --- | --- | --- |
| 342 | Dan | Gilchrist | 1:04.24 | Mens Short Course | Race Gear |
| 351 | Bridger | Carlton | 1:31.25 | Mens Short Course | Race Gear |
| 352 | Will | Carlton | 1:31.29 | Mens Short Course | Race Gear |
Men's Short Course Telemark
| | | | | | |
| --- | --- | --- | --- | --- | --- |
| 323 | Scott | Wither | 1:18.59 | Mens Short Course | Telemark & Recreational Gear |
| 305 | Jeff | Snook | 1:26.44 | Mens Short Course | Telemark & Recreational Gear |
| 209 | Scott | Cowman | 1:29.26 | Mens Short Course | Telemark & Recreational Gear |
Men's Short Course Splitboard
| | | | | | |
| --- | --- | --- | --- | --- | --- |
| 339 | Zane | Rigden | 1:48.17 | Mens Short Course | Splitboard / Snowboard |
| 241 | Robert | Jordan | 2:28.32 | Mens Short Course | Splitboard / Snowboard |
| 291 | Joseph | Race | 2:24.13 | Mens Short Course | Splitboard / Snowboard |
Women's Short Course Race Gear
| | | | | | |
| --- | --- | --- | --- | --- | --- |
| 308 | Adrienne | Stroock | 1:29.03 | Womens Short Course | Race Gear |
| 280 | Kellie | Nelson | 1:33.23 | Womens Short Course | Race Gear |
| 229 | Michelle | Geib | 1:40.27 | Womens Short Course | Race Gear |
Women's Short Course Telemark
| | | | | | |
| --- | --- | --- | --- | --- | --- |
| 184 | Ann | Barbier | 1:28.00 | Womens Short Course | Telemark & Recreational Gear |
| 235 | AnnaKate | Hein | 1:29.31 | Womens Short Course | Telemark & Recreational Gear |
| 286 | Brooke | Packard | 1:32.26 | Womens Short Course | Telemark & Recreational Gear |
Women's Short Course Splitboard
| | | | | | |
| --- | --- | --- | --- | --- | --- |
| 282 | Erin | Nemec | 1:33.16 | Womens Short Course | Splitboard / Snowboard |
| 265 | Meredith | MacFarlane | 2:06.03 | Womens Short Course | Splitboard / Snowboard |
| 278 | Summer | Muir | 2:21.26 | Womens Short Course | Splitboard / Snowboard |