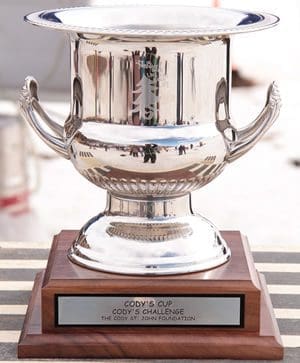 Cody's Cup is our newest addition to Cody's Challenge! Teams of two Ski Patrollers can enter to win and take home the grand prize!
Who can enter?  Any two, current Ski Patrollers from the same patrol.  It's straight forward; the two teams with the lowest combined time win. First place team wins $2000 and the second place team wins $1000 for continuing group medical education and/or training.
Not planning on going back to school Ski Patrollers, but interested in Avalanche I, II or advanced training? Then get yourself a teammate and come represent your mountain's Patrol to take home Cody's Cup and the prize money!!
Who's taking it home this year?
2017 winners: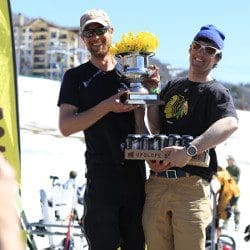 1. $2000.00 to Breckenridge: Duke Barlow & Todd Greenwood
2. $1000.00 to Steamboat: Kyle Lawton & Brian McGovern
2016 winners: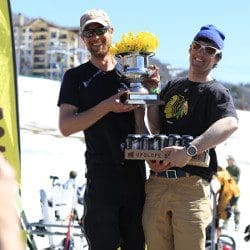 1. $2000.00 to Steamboat: Kyle Lawton & Brian McGovern
2. $1000.00 to Breckenridge: Duke Barlow & Todd Greenwood
2015 winners: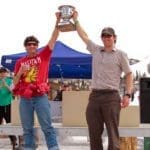 1. $2000.00 to Breckenridge: Duke Barlow & Todd Greenwood
2. $1000.00 to Steamboat: Kyle Lawton & Brian McGovern
2014 winners:
1. $2000.00 to Steamboat: Kyle Lawton & Brian McGovern
2. $1000.00 to Breckenridge: Mark Beardsley & Duke Barlow
2013 winners: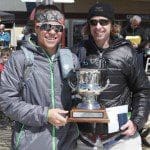 1. Aspen Mountain Ski Patrol, Max Taam and Brian Johnson – $2000
2. Breckenridge Ski Patrol, Mark Beardsley and Alex Banas – $1000
2012 winners:
1. Breckenridge Ski Patrol, Mark Beardsley and Duke Barlow – $2000
2. Steamboat Ski Patrol, Kyle Lawton and Liz Baldwin – $1000